FAT REDUCTION TREATMENTS
DR. VANDERLOOS – SHREVEPORT, LA
See what people are saying
Dr. Catherine Vanderloos is a board-certified OB/GYN physician who specializes in Gynecological and MedSpa Services. Dr. Vanderloos offers techniques, such as the SculpSure treatments to her patients living in the Shreveport, Louisiana area. Call (318) 865-4333 to schedule an appointment for consultation or services.
SCULPSURE VOTED A "MOST WORTH IT" PROCEDURE BY THE 2019 REALSELF PATIENT'S CHOICE AWARDS
SculpSure treatments help you safely reduce stubborn fat in problem areas such as the belly, love handles, back, thighs, and under the chin—with a treatment plan that is customized to the results you desire.
ACHIEVE A SLIMMER, NATURAL LOOKING APPEARANCE WITHOUT SURGERY OR DOWN TIME.
Many people exercise regularly and eat well, yet they experience problem areas where fat accumulates and does not seem to go away, no matter how diligent they are or how hard they work. High levels of the stress hormone cortisol, the impact of aging, genetic predispositions, and other factors play a role in this issue. If you have done everything you can and would like an extra boost that will help reduce fat and develop a smooth skin exterior, SculpSure may be right for you. As a recent innovation, it yields many benefits for those who experience treatment.
There is no recovery time, which means this can be done on a lunch break! Most patients even do multiple treatments to achieve optimal results.
SculpSure is the world's first FDA-cleared laser treatment for non-surgical lipolysis of the abdomen, flanks, back, inner thighs and outer thighs. It's a state-of-the-art, controlled light-based technology, ideal for patients looking to get rid of stubborn fat
SCULPSURE LASER
WHAT IS SCULPSURE?
SculpSure is a nearly effortless, noninvasive laser treatment for fat reduction, if not elimination, of fat accumulation via the use of a laser. Both men and women enjoy the treatment results as well as most body types and shapes. SculpSure for belly fat is the most widely-used treatment, but it can be effective for additional problem areas efficiently.
More people are moving toward nonsurgical cosmetic procedures than ever before and with good reason! Who doesn't want a quick, noninvasive treatment to a myriad of beauty and anti-aging protocols, including fat treatment? The recovery time is faster, there are no incisions, there is no need for anesthesia, and the procedure itself provides very little, if any, discomfort to the client. These factors, along with the cost, have helped to catapult procedures such as SculpSure into the forefront of cosmetic procedures.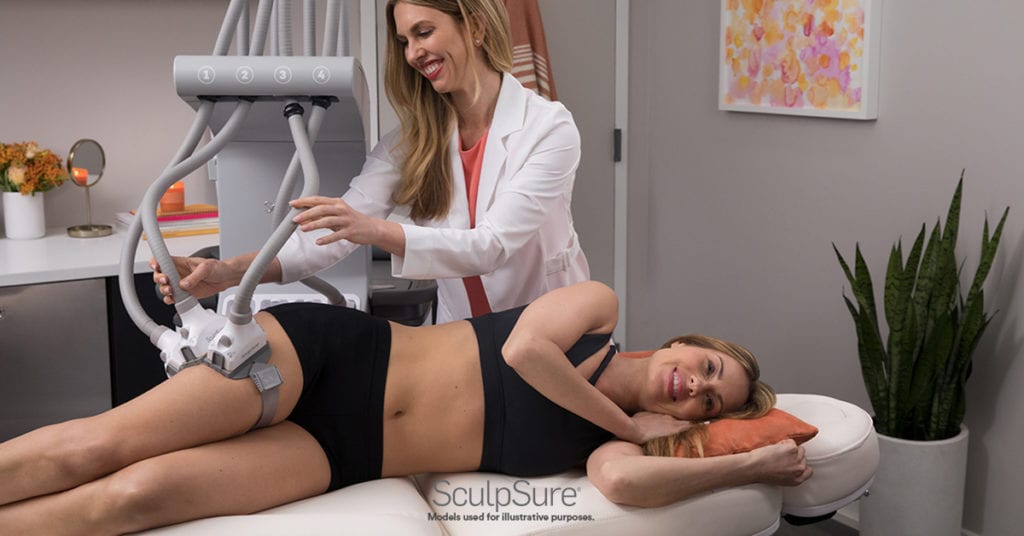 HOW DOES IT WORK?
SculpSure is a noninvasive lipolysis treatment. Lipolysis is simply a process by which fat is eliminated or reduced. Lipolysis uses a hands-free tool known as a heat laser belt. The heat laser belt gives off specific frequencies and wavelengths along with heat to target fat cells located in the upper and lower abdomen, flanks, legs, and under the chin without disturbing the skin's surface. This method has been approved for the past five years in the U.S.
1. IT DESTROYS FAT CELLS
SculpSure is a type of fat reduction surgery that raises the temperature of fat cells damaging their structural integrity.
2. IT ELIMINATES FAT CELLS
Over the next three months, the damaged fat cells are processed and eliminated by the body's lymphatic system.
3. IT PRODUCES FAST RESULTS
Fat cells are permanently removed and will not regenerate. Results can be seen as quickly as six weeks, and optimal results typically were seen at 12 weeks. One procedure takes an average of 25 minutes and can target multiple areas at once.
WHAT HAPPENS AT CONSULTATION?
Prior to treatment, you will have a consultation during which you should be prepared to discuss the problem areas you are hoping to improve. A medical history will be reviewed as well as any current medications. A decision will then be made as to the number of sessions required to meet your healthcare goals.
WHAT SHOULD I EXPECT DURING TREATMENT?
At your appointment, you will be taken into a private office and positioned in a comfortable, reclined position. One of our licensed, certified practitioners will review your consultation and mark the appropriate areas on your body that will receive treatment.
The hands-free SculpSure belt is then wrapped around you. Once initiated, the device applicators deliver diode laser that focuses on the marked treatment areas by delivering targeted heat at a temperature of 107.6 to 116.6°F. These temperatures kill underlying fat cells but leave other tissue and skin unharmed. The device then alternates between heat and cold for 20-30 minutes. Your lymphatic system continues to respond for weeks afterward, though it's flushing out of the destroyed fat cells.
Additional treatments may be performed should they be needed in as little as six weeks after the initial procedure.
HOW LONG DOES IT TAKE TO RECOVER?
The SculpSure procedure is less than 30 minutes. There is virtually no recovery time. In fact, many people schedule treatment during a lunch hour and return to work immediately.
WHAT RESULTS SHOULD I EXPECT TO SEE?
Once your lymphatic system is initiated and takes over after treatment, it will continue to metabolize and eliminate destroyed fat cells over the weeks to come. You may see results in as little as six weeks after treatment. Full results are normally seen 12 weeks after the initial treatment. Because fat cells are eliminated and not simply or solely reduced or altered, they don't regenerate.
It should be noted that SculpSure is not the best treatment for those with obesity, nor is it intended as an option for weight loss. People who are best suited for SculpSure have a body mass index of 30 or less. To support the treatment and to maintain a healthy lifestyle overall, a healthy, low-calorie diet should be consumed on an ongoing basis. If you think SculpSure is a good option for you, contact us to schedule a consultation.
SCULPSURE FAT REMOVAL RESULTS
Before & After the SCULPSURE TREATMENT
DR. VANDERLOOS' OTHER MED SPA SERVICES
VISIT CATHERINE VANDERLOOS, MD
Address:
460 Ashley Ridge Blvd | Suite 200
Shreveport, LA 71106
Phone: 318-865-4333
SCHEDULE AN APPOINTMENT WITH US TODAY!